---
This is an artificial silk fabric with good feel. It causes no skin troubles and has good coloring, so it is mainly used for print shirts. It is a plain weave fabric using 30'S rayon. The density is 82 x 71, rather loose, which makes it a natural-looking fabric.
Rayon is commonly known as a natural fiber, but to be precise, it is a recycled fiber as one of the artificial fibers made by chemically treating wood (pulp). It was created as an effort to make a fabric similar to silk. That is why it is also called 'artificial silk', and it is also called 'viscose rayon' after the viscose colloid solution that treats cellulose. Because it is made of wood (pulp), it is weak to water, so it shrinks when washing, and it is difficult to handle due to low water fastness. Much effort has been made to improve the environmental problems caused by its chemical processing and the low water fastness, and now, more eco-friendly and high-fastness fabrics are being made. There are blended rayon fabrics 'modal (beech tree)' and 'tencel (eucalyptus)' depending on the material used and the improved processing technology. Rayon has a feel similar to cotton, has good drape properties, and gives a cool feeling when it touches the skin. In addition, it is widely used in summer women's blouses and dresses because it has the characteristics of wrapping around the body with a moderate weight and drapes, absorbs, and discharges sweat quickly, and has minimal pilling.
---
Color Guide on this fabric
The color guide fabric includes approx 1400 kinds of CMYK colors. If you set the colors of the digital file according to the color guide, the result would be very similar with your expectation. It is one of the best way to miminize the time for color matching.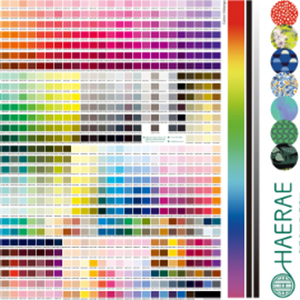 17.6 USD/PC
---
30 Rayon Plain
6.93 ~ 17.6 USD/YD
---
Average Lead Time : 15 Working Days
---
Pricing Steps
| | |
| --- | --- |
| 1 ~ 49 YD | 17.6 USD/YD |
| 50 ~ 299 YD | 12.76 USD/YD |
| 300 ~ 499 YD | 9.13 USD/YD |
| 500 YD ~ | 6.93 USD/YD |
---
If you order more than 50yards per design, the discount will be calculated automatically based on your total order quantity at the checkout.
---
| | |
| --- | --- |
| Material | 100% Rayon |
| Weight | 209 gram/YD |
| Composition | 82 / 71 |
| Width | 58.5 Inch |
---
Transparency
Draping
Glossiness
Stretch
---
Washing Instructions
---
Test Report
---
Please login to upload your design.
Upload your design and get it printed on 30 Rayon Plain.
---