---
As a fabric woven with yarn blended with cotton to improve wrinkles in linen, it is suitable for clothing, table covers, household items, and blinds. Linen blend rate is higher than cotton blend rate and it has a natural feel by adopting a pre-treatment method without bleaching.
Linen is the most widely used plant-based natural fiber along with cotton. There are types of linen such as flax, ramie, hemp, and jute, and this fabric is made from the most commonly used, flax. Among linen materials, flax is currently the most widely used for clothing and daily items, and ramie has been mainly used in summer hanbok under the name 'Moshi'. Hemp is also called 'Sambae' and is used as a funeral shroud rather than general clothing, hemp is also used to make bags or ropes. Linen is crisper to the touch compared to cotton and it does not stick well to the skin, so it is known to be suitable as a material for summer because of a cool, quick drying, and pleasant feeling. In addition, it is hygroscopic and dries well at the same time, so bacteria do not grow easily on it. That is why it is used as dishcloth, where hygiene is important. The biggest drawback of linen is that it wrinkles easily and changes due to sunlight. In order to improve these shortcomings, it is often blended with other types of yarn. As such, this fabric is also made with cotton to increase its utilization.
---
Color Guide on this fabric
The color guide fabric includes approx 1400 kinds of CMYK colors. If you set the colors of the digital file according to the color guide, the result would be very similar with your expectation. It is one of the best way to miminize the time for color matching.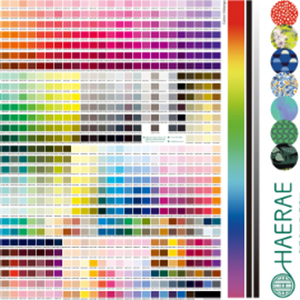 21.12 USD/PC
---
11 L/C
8.47 ~ 21.12 USD/YD
---
Average Lead Time : 15 Working Days
---
Pricing Steps
| | |
| --- | --- |
| 1 ~ 49 YD | 21.12 USD/YD |
| 50 ~ 299 YD | 15.84 USD/YD |
| 300 ~ 499 YD | 11.77 USD/YD |
| 500 YD ~ | 8.47 USD/YD |
---
If you order more than 50yards per design, the discount will be calculated automatically based on your total order quantity at the checkout.
---
| | |
| --- | --- |
| Material | 52.3% Linen 47.7% Cotton |
| Weight | 349 gram/YD |
| Composition | 58 / 44 |
| Width | 58.8 Inch |
---
Transparency
Draping
Glossiness
non-glossy to less glossy
Stretch
---
Washing Instructions
---
Test Report
---
Please login to upload your design.
Upload your design and get it printed on 11 L/C.
---